I am starting to furnish my Squirrel Tree. I have no idea how to make proper furniture, and most massmade dollhouse miniatures would not fit in with the look of the Squirrel Tree. So I bought a couple of these amazing 1/24th scale sets from
Rustic Miniatures
on Etsy. They create both one and half inch scale pieces and they are simply so beautiful. Even the bed is strung underneath with twine. I love everything about them, so much in fact that I have since bought another bed and chair set!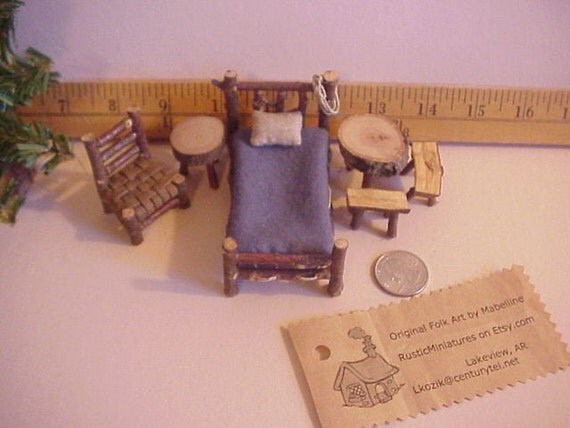 One of the sets I bought from Rustic Miniatures
They are surprisngly sturdy, and even the little stools sit completely flat without wobbling. No nails are used, which adds to the rustic look. I've now idea how they get it to look so neat.
Here are a few more pieces by Rustic Miniatiures, just because they are too good not to share: