I was clearing through my miniature stash and I found my faithful, old copy of
'Making Miniature Food and Market Stalls'
by Angie Scarr, a book I bought years ago when I first became intrigued in miniature dollhouse food.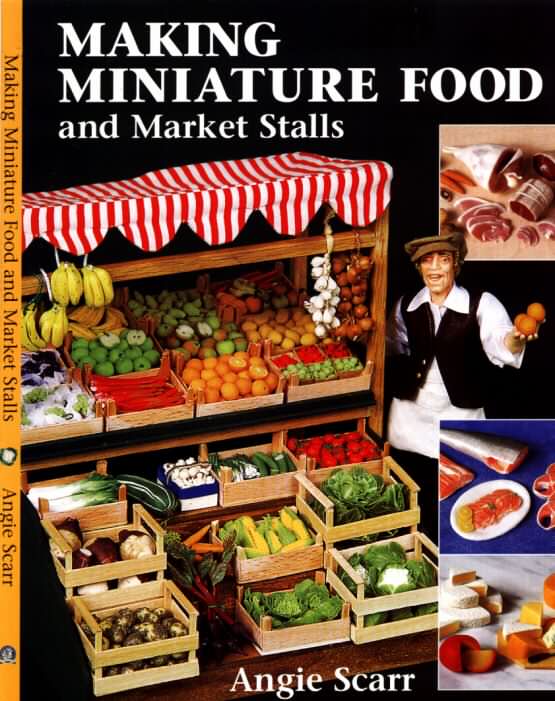 Summary
'Making Miniature Food and Market Stalls' covers methods on how to sculpt all kinds of different foods, as well as how to make a market stall to showcase them. Included are tutotials on various fruit and vegetables, raw and cooked meat, fish, breads and cheeses. It also lists what kind of tools you will need, and contains a very useful table on different colour mixes (you very quickly learn that simply using polymer clay straight from the pack never produces realistic colours).
Review
There are many great aspects of this book.
Firstly, the sheer number of different foods covered means you won't get bored quickly. I still haven't attempted every type of food shown, and I've been making miniatures for years.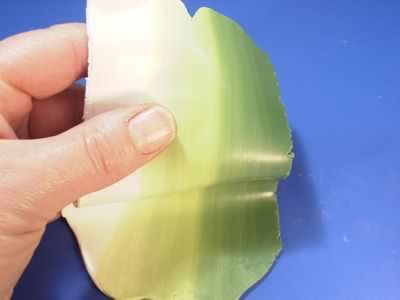 Leek Tutorial
Secondly, every tutorial comes with ample photographs, and good descriptions that are not so wordy as to be difficult to follow. If you are a complete beginner, this is a good book to use, because it takes nothing for granted and really shows you step by step what to do. Plus aesthetically it's a joy to look through all those pictures of miniatures in progress (and finished). To see what I mean, check out this
leek tutorial
on
Angie Scarr's own website
. It's not the simplest of vegetables to make, but her instructions are clear and easy to follow. Don't worry if you don't own a pasta machine (I don't) but be prepared to spend a
long
time with a rolling pin.
Finally, the biggest mystery to me when it comes to using polymer clay is getting the colours right, and this books takes a lot of the guesswork out by referring to its own colour table throughout. There will be a lot of flipping pages between the colour table and your project, but it helps the novice get a feel for how the colours blend and look after baking without having to sacrifice silly amounts of polymer clay finding out.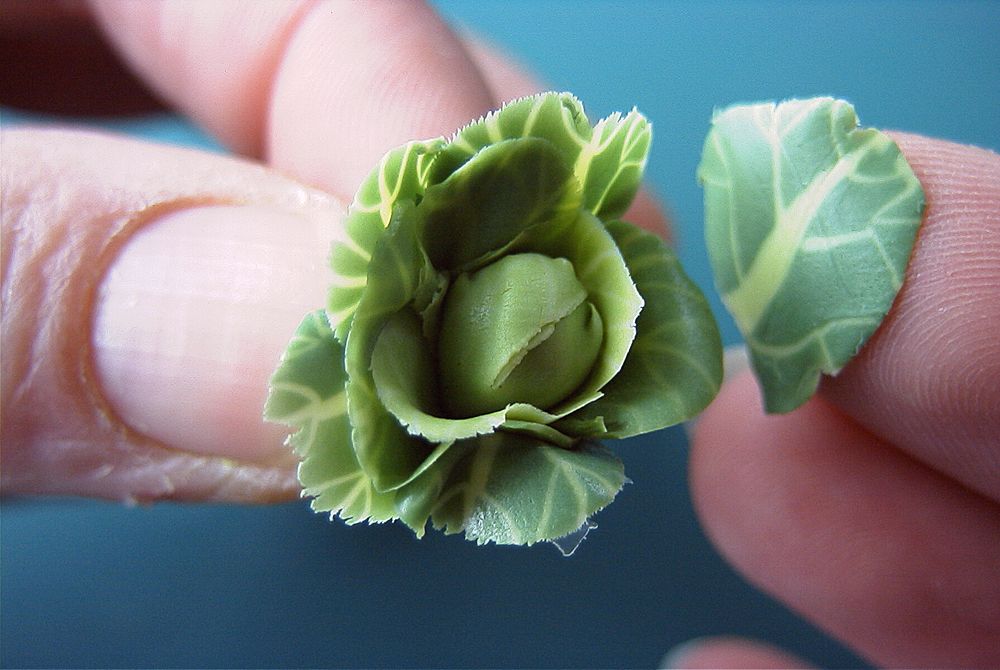 How to make a cabbage
On the negative side, there are a couple of methods described, which for me have never yielded satisfactory results. I don't know if I'm doing it wrong, or if there is a knack to it I've never developed, but I came up with my own methods for getting the correct look for bread and salami contrary to the book. Sometimes you have to just do whatever works best for you.
I find a couple of the colour mix suggestions to be a little off, but once more, this is often in the eye of the beholder, and polymer clay manufacturers do sometimes change their formulae, thus making the ratios slightly out over time.
Furthermore, as a beginner's book it doesn't cover many of the more advanced techniques that many miniaturists like to employ, such as using liquid polymer clay. I should mention that Angie Scarr has published other books, such as
'Miniature Food Masterclass'
, which I haven't yet read, so perhaps these delve into such techniques with more detail.
Conclusion
'Making Miniature Food and Market Stalls' is a great reference book for beginners. It is very comprehensive and will certainly get you started and ignite your imagination. But for the more advanced miniaturist, you probably already know most of what it has to offer. For me, it was a worthwhile introduction to making miniature food back when I was swimming with ideas but had no knowledge or experience. I was able to practice and refine my technique greatly thanks to the tips in this book.
My score for
'Making Miniature Food and Market Stalls'
by Angie Scarr:
8/10 (That's pretty good!)